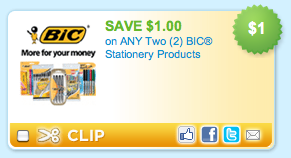 It's back to school time, and that means lots of stationery coupons! Coupons.com released a new $1/2 Bic Stationery Products coupon today, but before you print, please read the full post.
It seems like if you print the Bic coupon alone, the coupon will take up the entire page and will not print with an expiration date. However, choose one other coupon and the Bic coupon, and it will print out fine.
Okay, now on to the deal at Target. Starting 7/17, they will have these Bic pens on sale for $0.50. Check out this deal scenario below:
Bic Crystal Pens (10 count), $0.50 (starting 7/17)
$1/2 Bic Stationery Products
Final cost: 2 for FREE!
Thanks, Totally Target!