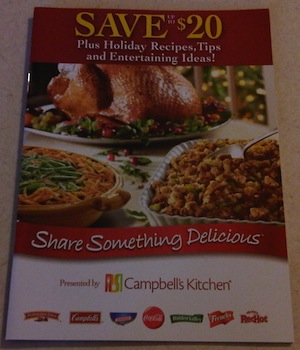 Next time you're out and about shopping, be sure to look for this new Campbell's Kitchen coupon booklet! It contains $20 in coupons inside:
$1/4 Campbell's Condensed 'Great for Cooking' Soups
$1/2 Swanson's Broth (32 oz) or Stock (26 oz)
$0.50/3 Campbell's Gravy
$0.50/2 Prego Italian Sauce
$1/2 Swanson Chunk Chicken
$1/4 Coca-Cola 2 Liters or 2 – 12 oz 8 packs
$5 Mail in Rebate for Beauty & the Beast or Toy Story 3
$1/1 Hidden Valley Dry Multi pack or 3 single packs
$1/2 Hidden Valley or Farmhouse Originals Dressing
$0.50/1 French's French Fried Onions
$0.50/1 Franks RedHot Sauce
$1/1 French's Honey Mustard Dipping Sauce
$2/2 Pepperidge Farm Puff Pastry Sheets or Shells
$1/2 Pepperidge Farm Cookies
$1/2 Pepperidge Farm Distinctive Crackers or Baked Naturals Snack Crackers
$2/4 Pepperidge Farm Bread, Stuffing or Croutons
All coupons expire 1/15/11.
Thanks, Penny Pinchin' Mom!