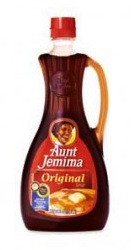 Coupons.com just released a few new coupons:
Save $1 on any two 24oz or larger Aunt Jemima Mix or Syrup
Save $5 on SLIMQUICK Appetite Control
Save $2 on one AmLactin Moisturizing Body Lotion or Cream
Save $5 on one AmLactin XL Moisturizing Lotion
Save $1 on any two packages of Murray Sugar Free Cookies
Other New Coupons:
Nutra Nail Coupons:
$1 off any Nutra Nail product
$3 off any two Nutra Nail products
Save $1/1 Pillsbury Ready To Bake Cookie Dough
This should make for a great deal when you pair it up with the soon to be clearance holiday cookie dough!
Save $1/1 32oz. College Inn Chicken Broth: IE or Firefox
These are regularly priced around $1.50-$2, so you should easily be able to get some inexpensive chicken broth!
Red Plum Coupons
$1.50 off any one Pond's Wet Cleansing Towelettes (30 count only)
$1 off any one Vaseline Lotion (200ml or larger) except Renewal or Glow
$2 off any product from the makers of Theraflu
Fiber One Coupons
$0.75 off Fiber One Original, Fiber One Honey Clusters, Fiber One Raisin Bran Clusters, Fiber One Caramel Delight, Fiber One Frosted Shredded Wheat
$0.75 off any one box of Fiber One Chewy Bars or Fiber One 90 Calorie Chewy Bars
$0.75 off any Flavor Yoplait Fiber One Yogurt Multipacks
Thanks, It's Hip to Save!