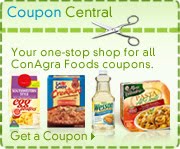 Simple and Delicious just released 4 new printable coupons! To access them, just click here and click on the coupons you'd like to print. These are SmartSource coupons and will print immediately after clicking the link.
Coupons available:
Save $1 on any one Egg Beaters flavored variety
Save $1 on any one La Choy Creations
Save $1 on any one New Pasta Al Dente from Marie Callendar's
Save $0.50 any one Wessin Oil
Thanks, It's Hip to Save!