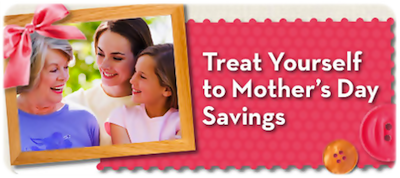 Personal Care
$1/1 Garnier Fructis Style product
$0.75/1 Efferdent Denture Cleanser or Effergrip Denture Adhesive product (zip 98052)
$1/1 any Jergens Natural Glow Moisturizer product
To see more coupons, click on the 'Continue Reading' link in the gray box below.
Household/Pet
$2 off any Post-It Flags or Tabs purchase of $3 or more (PDF)
$4/1 Nutro Natural Choice dry Cat food product
$2 off any Ziploc brand food storage and 2 M&M's Chocolate bags
(9.9 oz or larger; manufacturer's coupon on Target.com)
$1/1 Clorox 2 Laundry Stain Remover
Various Family Dollar Store coupons
Various Hill's Science Diet coupons
Buy one OFF! Clip-On™ Mosquito Repellent, get one FREE (up to $10 value)
Sign up for the MY NUTRO REWARDS program and you'll get a $10 coupon by mail good on any NUTRO dry food product
Grocery
$1.50/1 Starbucks Natural Fusion 11 oz. bagged coffee
$3/1 any PediaSure product (sign up for newsletter)
$1/2 Hungry Man dinners coupon
$0.55/1 Aunt Millie's Hearth or Deluxe Hamburger or Hot Dog Buns
$0.55/1 Aunt Millie's Hearth 100% Natural Bread
$0.55/1 Aunt Millie's Slimwiches
$1/1 any Better Oats Oatmeal
$1/1 Ghirardelli Squares bag 4.5 oz+
$3/1 One A Day VitaCraves
$1/1 I Can't Believe It's Not Butter Spray Made with Extra Virgin Olive Oil Product
$0.55/1 8.1 oz-14.4 oz Multi-Pack of Pepperidge Farm Goldfish Crackers
$1/1 Boulder Canyon Potato chips 5 oz or larger (zip 90210)
Buy 1 Get Free WorX Energy Drink (click on blue circle)
$0.70/1 Pop-Tarts Mini Crisps 6 count +
$0.75/1 Ritz Crackerfuls (click 'Get a Coupon' at bottom right)
$1/1 Ore-Ida Sweet Potato Fries
$1/1 Nasoya-Tofu product
Various Yoplait Coupons
New Nestle Coupons
$0.75/2 packages of Taco Bell Home Originals (excludes seasoning mix packets)
$0.50/1 Peter Pan Peanut Butter (use code 63829897)
$0.55/1 Sunny-D product
Movies
$3 off Australia on Blu-ray
$3 off Benny & Joon on Blu-ray
$3 off Hope Floats on Blu-ray
$3 off Little Miss Sunshine on Blu-ray
$3 off Moulin Rouge on Blu-ray
$3 off Mr. and Mrs. Smith on Blu-ray
$3 off Mystic Pizza on Blu-ray
$3 off Romeo & Juliet on Blu-ray
$3 off Secret Life of Bees on Blu-ray
$3 off Taxi on Blu-ray printable
Thanks, Hip2Save!