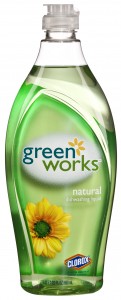 Become a fan of Green Works on Facebook and you'll have access to a $1 off Green Works Natural Dishwashing Liquid coupon! Just click on the 'Coupons' tab to print this high value coupon. Hurry– it's ONLY available to the first 1,000! Also, you can go here and print an additional coupon. Click on the coupon link on the left hand side.
I'm not sure how many coupons are left at this point.
Other New Coupons:
$1 off any Two Tree Top Products

$1 off any Motrin PM Product (20, 40, or 80 count)
$1 off any pack of Rayovac alkaline batteries
This is a SmartSource coupon.
You can use this coupon to get FREE batteries at Target! Look in the Dollar Spot for Rayovac batteries priced at $1.
$1 off one package of Sister Schubert's Rolls

$0.75 off any One Hungry Man XXL Sandwiches (Coupon Reset)
Save $5 on any Aveeno Positively Ageless Kit
Various Johnson's Baby Care coupons
Save $0.75/1 Red Gold Tomato with Green Chilies
Offer valid in KS, MO, OK, and TX markets only.
$1/2 Snackwells and/or Sugar Free Oreos
$1 off One Ord-Ida Steam n' Mash Potatoes
Thanks, Hip2Save!