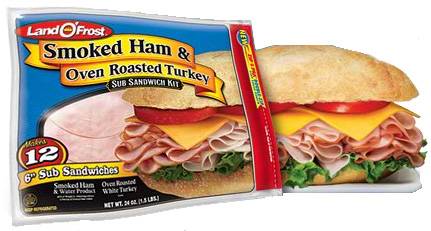 Land O' Frost just released a new coupon! Go here to print a coupon valid for $2 off any one package of Land O' Frost Sub Sandwich Kit. Look on the right side of the page for the coupon link. This is a new Land O' Frost product and comes with enough sliced meat to make 12 6-inch subs. Retail is around $6.
Other New Coupons:
$0.50/1 Del Monte Gold Extra Sweet Pineapple (New Link!)
$1 off one Breyers YoCrunch 100 Calorie Pack Yogurt
$1 off Starbucks VIA Iced Coffee (5 Pack)
Buy Two Get One FREE cesar Canine Cuisine Entree
Coupon link is on the lower left side of the page.
$5 off any Brita System
Register and take the pledge.
$2 off any Brita Filter
Register or login and setup a reminder to change your Brita filter.
$0.50 off any one 64 oz Old Orchard Juice Product (Reset)
$1/3 Boston Market Frozen meals
Buy one OFF! Clip·On Mosquito Repellent, get one FREE
$0.75 off any New York Style Product
$3 off any pack of Rayovac Rechargeable Batteries or Charger (Facebook coupon)
$0.50 off any Musselman's Apple Butter (28 oz)
$0.35 off any 12 oz Shamrock Farms Rockin' Refuel
New Special K Coupons:
$1 off one package of Special K Low Fat Granola Cereal (19.5 oz)
$1 off any one 4 count package of Kellogg's Special K Protein Shakes (any flavor)
New Simple & Delicious Coupons:
Save $1 on any one box of Orville Redenbacher's Cheddar Cheese or Spicy Nacho Flavor Popcorn
Save $1 on any ONE 5-lb. bag of Eagle Mills Flour made with Ultragrain Whole Wheat
Save $1.25 on Orville Redenbacher's and M&M's when purchased together
Thanks, Hip2Save!