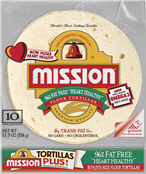 The $1/1 Mission Tortillas coupon has reset! Just click here, enter your email address and then you'll be able to print a $1 off any one package of Mission Tortillas coupon. Mission Tortillas often go on sale for under $2, so this coupon should make for a great deal!
Other New Coupons:
Save $10 of the new Surrogates Blu-Ray DVD
This is a new movie, so there should be some great sales available.
Save $1 on any one Gorton's item
Just be among the first 10,000 to sign up for their eNewsletter and you'll get coupon.
Hit your back button to print 2 coupons per computer.
Save $1 on any one Children's Oscillococcinum, Children's Coldcalm or Children's Chestal (any size)
This coupon doesn't expire until 12/21/12!
Thanks, Hip2Save!