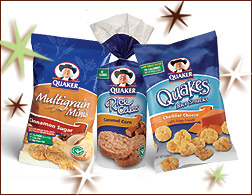 UPDATE: It seems some are getting a $1/2 coupon now…and some are still getting the $1/1.
Red Plum has a new high value Quaker coupon! Go here to print a coupon valid for $1/1 package of Quaker Rice or Multigrain Snacks. Print this coupon now…it probably won't be available for long!
Other New Coupons
$2/1 STP product
STP is normally priced under $2 at Walmart, so FREE after the coupon!
$0.55/2 Yoplait Whips!
If your store doubles coupons, you should be able to get 2 for FREE!
Thanks, eeendeavors.com!
$1 off Desitin
Thanks, eeendeavors.com!
New Betty Crocker Coupons
Hurry and print the ones you think you may need…quantities are limited!
Thanks, eeendeavors.com!