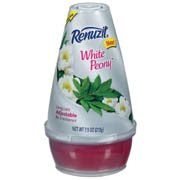 Buy 1 Renuzit Adjustables Air Freshener, get 1 FREE
There is also a buy 2, get 1 free coupon and a buy 5, get 2 free coupon available! Use zip code 44256.

Save $0.55/1 loaf of Aunt Millie's Early American Bread
Use zip code 44256.
Save $0.55/1 Aunt Millie's Spreadables Mini Bagels
Use zip code 44256.
Save $1 on any one Thai Kitchen Product
The Thai Kitchen noodle bowls and small cans of Coconut Milk are priced around $1, so possibly FREE after the coupon! Use zip code 44256.

Save $1 on Delightfully Skinny Ice Cream Cones: IE or Firefox
These are yummy, guilt free treats!

Save $0.75/1 package of No Yolks
Just register to access this high value coupon! This should make for a very sweet deal when paired with a sale!

Save $0.50/1 Bachman Popcorn or Lite Popcorn
Use zip code 01089.
Save $1/1 bottle of Arbor Mist Wine
This is a RARE coupon and great for the holidays!
Save $1 on any TWO packages of Kellogg's Rice Krispies Treats Crispy Marshmallow Squares (8 ct. or Larger)
$1/1 Renu MultiPlus Solution printable — makes the trial/travel size at Walmart or Target just $0.47 after coupon!
$1/1 Fillippo Berio Olive Oil printable IE or FF — this is a rare coupon!