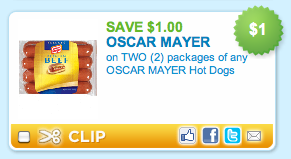 Coupons.com announced on their Facebook page yesterday that these two coupons will be reaching their print limits soon! Print these if you haven't already.
---
Here are more coupons you may be interested in printing:
Grocery
$0.75/1 Voskos YoGreek Yogurt + Crunch yogurt (refer 3 friends)
$1/1 Sunbelt Family Pack Granola or Fruit and Grain and any 1 Little Debbie Family Snack Pack
$0.75/1 Breyers Blasts!
$1/1 Cascadian Farm Product
Save $1 on Lee Kum Kee product
$1 off one 3-pack of Magnum Ice Cream
Various Goya coupons
$1/3 Balance Bars
$1.50/1 Wanchai Ferry Frozen entree
$1/1 Wanchai Ferry dry dinner
$1/2 Nestle Pure Life Purified Water Mulipacks (20 pack or larger)
$1/2 packages of Nestle Toll House Morsels (10 oz or larger)
$0.55/1 Nestle Toll House Refrigerated Cookie Dough or Brownie Dough
$1/2 Kellogg's All-Bran Cereals
$1/1 Galaxy Veggie or Vegan Cream Cheese
$1 off one package of Land O' Frost Sub Sandwich Kit
$1 off any flavor of Reed's Ginger Brew 4-pack
$1/1 I Can't Believe It's Not Butter Spray
$1/4 Bush's Beans (redeemable at Winco)
Buy one get one FREE 100% natural Lipton iced tea
$1/2 Welch's Sparkling Juice Cocktails (zip code 90210)
$1/1 Dannon Light and Fit Strawberry Banana (4 pack) (1st 15,000)
$1 off any 59oz Uncle Matt's Organic Juices
$0.50 off any Gallon of Tampico Juice
$0.50 off any Tampico 12oz Multipack
$1 off any Filippo Berio Olive oil
$0.55/1 SunnyD Product (become a SunnyD Ambassador)
Save $0.55 off any LaCroix 8 pack flavors at Target
$1 off Heinz 57 sauce
$1 off any Lea and Perrins 10oz Worcestershire sauce
$0.55 off any Aunt Millie's Hearth or Deluxe Buns
$1 off any Cabot Cheese Product
$0.50/1 Old Orchard 64oz Juice Product
$1/2 Healthy Balance reduced-sugar juice drinks
$1/4 Old Orchard Frozen Juice Concentrates
Personal Care/Household/Pet
$1 off any 2 Lip Smacker Products
Save $1/1 Glade Plug-Ins Scented Oil Twin Refill or Two Single Refills
Save $2 off any Sally Hershberger product (redeemable at select Walmart stores) – use zip 37075
Various Claritin coupons
$1 off Chinet Casuals plates
$1 off any Hylands Nerve Tonic Product
Save $1 off any Aveeno baby product
$2 off any OFF! Mosqito Repellent Starter
Various Hill's Pet Dog food coupons
Save $1 on any Hair Off product
Save $1 off any Nutra Nail product
Save $1 on any Plus White product
Various L'Oreal coupons
$1 off any one Scotch Brite Scrub Sponge 3-Pack
$2.50 off Weleda 100% Natural Body Oils
Thanks, Hip2Save!