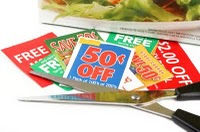 Coupons.com just released a few new coupons:
Save $5 on any Weight Watchers Scale by Conair
This is a rare coupon and should make for a great deal when paired with a sale!
Save $1 on any Perdue Short Cuts Carved Chicken Breast Strips
Other New Coupons:
New link for Nestle & Wonka coupons
(coupon links on right hand side)
$1 off two Nestle Crunch or Butterfinger Hearts Bags (9.2oz or 11oz)
$1 off any Wonka or Nestle Mini Gift Exchange Kit (11.2oz)
Save $1/1 Scotch-Brite Greener Clean Products
This is a PDF coupon and is valid through 3/31/2010.
Plus, you can enter the Scotch-Brite Clean Sweeps!
Save $3/2 Tylenol Products: IE or Firefox
Save $0.75 off any Nature's Own Sandwich Rounds
Save $1 on any one bag of Birdseye Voila
Roberts Dairy Coupons:
Roberts Dairy products are sold in NE, IA, MO, KS, IL, CO and SD.
$0.50/1 Cottage Cheese, 24oz. (expires 5/31/10)
$0.40/1 Sour Cream, 16oz (expires 12/31/10)
$0.55/1 Gallon of Milk (expires 12/31/10)
$0.30/3 Yogurt Cups, 6oz (expires 3/31/10)
Thanks, Hip2Save!