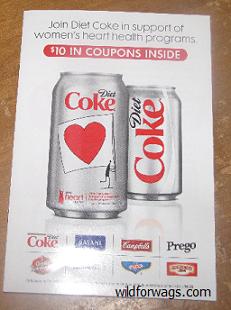 Another new coupon booklet is popping up in stores! This one has a picture of Diet Coke on the front, and has manufacturer's coupons inside for Diet Coke, Prego, Campbell's and more.
Coupons Inside:
$0.50/1 Diet or Caffeine Free Diet Coke (20 oz)
$1/2 Multipack Bottles of Diet or Caffeine Free Diet Coke
$1/2 Diet Coke or Caffeine Free Diet Coke 12 packs
$1/2 Multipacks of Dasani Bottled Water
$0.50/1 Vitamin Water Zero (20 oz)
$1/2 Campbell's Chunky Soup or Select Harvest Healthy Request Soup
$1/3 Campbell's Healthy Request Condensed Soup
$1/1 Pepperidge Farm Baked Naturals Snack
$1/2 Swanson Premium Chicken Breast Cans
$1/2 Prego Health Smart Italian Sauces
$1/2 Orville Redenbacher's Smartpop Popcorn
Thanks, Wild for Wags!