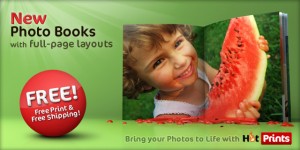 Beginning today, Hot Prints is offering FREE photo books with full-page photo layouts (even better than the photo books I posted previously)! They have also introduced several new themes, including a baby and wedding theme. If you have already created a photo book this month, then you may not be able to create another until March.
How can they afford to do this?
They actually have advertisers sponsor the books. They sponsor the books by putting paper advertisements in the shipment of the Hotbook, but there will be NO ads attached to the Hotbook.
Ready to get started?
Go here to create your FREE Hotbook! Click on the 'Make Your Own HotBook' link on the right hand side. You'll then need to either login or register.
Please note that the delivery process may take longer than expected.
Thanks, Hip2Save!