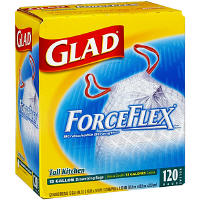 There's a new Glad ForceFlex sample available on the Sam's Club site! This particular sample is only available to Sam's Club members.
Not a Sam's Club member? You can use this FREE one-day Sam's Club pass to give bulk shopping a try through 2/28/10. Note that this pass include a 10% service charge.
Thanks, Deal Seeking Mom!