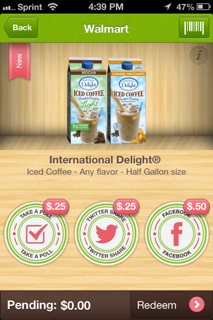 Here are some great new Ibotta offers to load to your account! Load any you think you might use, because these do have a limit.
$1/1 International Delight Iced Coffee, half gallon
$2/1 Bubba Burger, 6 ct +
$0.75/1 Blue Bell Ice Cream, half gallon
$0.75/1 Coppertone Sport Sunscreen
$0.50/1 SunnyD, 40 oz +
$0.50/1 Vita Coco Pure Coconut Water
$0.50/1 Sweet Baby Ray's Barbecue Sauce, 18 oz +
$0.50/1 Oroweat Hamburger Buns, 8 ct +
$0.50/1 Morton Sea Salt, course or granulated varieties, 14 oz +
$0.50/1 Bush's Best Baked Beans, 16 oz +
$1.75/1 Farmland Bacon
Sign Up for Ibotta
Remember, these offers won't come off of your grocery bill, but will be deposited into your account once you upload your receipt. Read more about the Ibotta app.