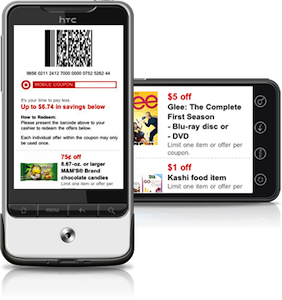 Wow! There are more great new Target mobile coupons you can request if you have a phone with text messaging and Internet capability.
To get these coupons, text PICNIC to 827438. These coupons are valid through 6/12/13, so you'll have plenty of time to use them.
$1 Off Fresh Vegetable Purchase of $1 or more
$1 Off Fresh Fruit Purchase of $1 or more
$1/1 Market Pantry 80/20 Fresh Ground Beef
$1/2 Market Pantry Frozen Fruit 8oz+ or Smoothie 8oz or 1.5qt
$1/2 Market Pantry Pasta Sauce or Dry Pasta
$1/2 Market Pantry Frozen Chicken Items
$1/2 Market Pantry Fruit Snack Items excl single-serve
$1/2 Kraft Sliced Cheese Items (Void in CA, LA, TN)
$1/2 Honey Maid Graham Crackers
$0.75/2 Ziploc Storage Items
$1/2 Oscar Mayer Deli Fresh Lunch Meats 7 oz+
$0.50/1 Best Foods OR Hellman's Mayonnaise 15oz+
$1/1 Bounty Paper Towels 6-pk+ OR Charmin Bath Tissue 9-pk+
$0.50/1 Clorox Disinfecting Wipes 35ct+
$1/1 Windex Touch-Up Bathroom OR Kitchen Cleaner 10oz
$1/1 Glade Air Care Item (excludes Plugins oil warmer, 8oz aerosol, 32oz carpet powder)
$0.75/1 Shout Laundry Care Item ETS
$1/1 Tide Laundry Care Item ETS & Tide Pods
$1/2 Head & Shoulders, Herbal Essences, Pantene or Aussie ETS
$1.50/2 Always Radiant OR Tampax Feminine Care Items ETS
If you aren't signed up to receive Target mobile coupons, go here to register. You'll need to have an Internet capable phone to retrieve the coupons. Standard text messaging and data rates apply.