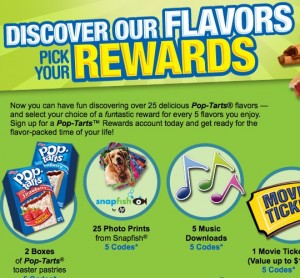 Most of you are probably already members of Pop-Tarts Sprinklings. If not, you can read more about this great program here. Pop-Tarts Sprinklings just announced a great new rewards program! All you have to do is enter "Flavor Card codes" printed on the packages of specially marked Pop-Tarts boxes. Look for these 16-digit codes printed on the inside back panel of the boxes.
Once you enter 5 codes, you can get some great prizes! You can get a FREE movie ticket (up to a $12 value), which means you only need to purchase 5 boxes of specially marked Pop-Tarts to get it! That's an awesome deal, and even better when you purchase Pop-Tarts that are on sale and with coupons!
*Limit one code per flavor. Limit five rewards per person. Must be U.S. resident 13 and older in the 50 U.S. States (& D.C.). Last day to enter codes 9/29/11. Last day to redeem codes 9/30/11.
Thanks, Hip2Save!