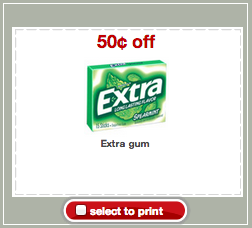 Target has released a few more Target store coupons on their website this morning! You can visit the Target coupon site to print these. Remember, these are Target store coupons, so you can stack them with manufacturer's coupons to save even more.
EXPIRES 2/3
$0.50/1 Extra Gum
EXPIRES 2/9
$1/2 Special K Cereals 12-oz. or Larger
$1/2 Hormel Original Crumbled Bacon Bits 4.3-oz.
$0.50/2 Hormel Chili Cans 15-oz.
$3/1 Hormel Party Tray Deli Dept.
$1/2 Hormel Pepperoni Packets
$1/1 Lloyd's BBQ Tubs
$0.50/1 Special K Multipack (Cracker Chips or Popcorn Chips)
$1/1 Weight Watchers Frozen Dessert Item ESS
See the current Target deals you can grab while you're there.
Thanks Totally Target!