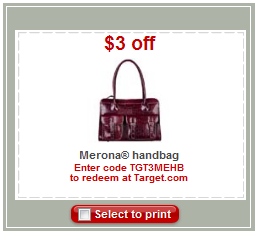 First of all, I just wanted to mention that there are tons of new coupons on Target's site! The list is just too extensive to post, so go browse through their site and print what coupons you may need.
Second, the Target coupons good on apparel items are back again! If you remember from last time, these coupons didn't last very long, so print them now!
Coupons Available
$5/1 C9 Apparel item
$1/1 Hanes item
$2/1 Women's plus apparel item
$3/1 Merona handbag
$3/1 Merona mens top
$2/1 Merona women's top
They all expire on 7/31/10. These coupons don't exclude clearance items, so start there when you are looking for deals with these.
Thanks, Common Sense With Money!