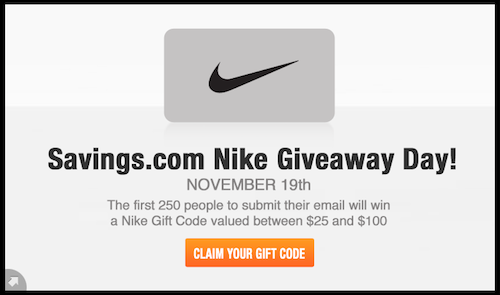 Nike Flash Giveaway Coming Soon (250 Free Gift Codes)
Mark your calendars or set a reminder on your phone! On Tuesday, November 19th, Savings.com and Nike will be giving away 250 free gift codes to spend at Nike.com! You could use this on athletic apparel, equipment, accessories, footwear, and more.
The codes will be worth between $25 and $100. The winners will receive FREE 2-day shipping from Nike.com as well.
This Nike flash giveaway will take place on the Nike page on Savings.com on 11/19, sometime between 9am and 9pm pacific time. Keep checking back throughout the day to see if it has started!
To Get Your Code:
On Tuesday, November 19th, head over to the Nike page on Savings.com.
If you're one of the first 250 people to submit your email address while the Nike flash giveaway is live, you'll receive a code. FREE 2-day shipping will be provided as well.
The giveaway will end when all codes have been claimed.
Once you receive your code, head over to Nike.com to redeem it.
Don't worry, your email address will only be used to let you know if you've won a code. Limit one entry per person (per unique IP and email address).
I will post a reminder on the Frugal Finders Facebook page and Twitter account on Tuesday the 19th. Good luck!