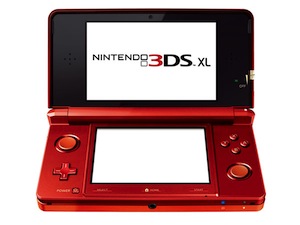 Does someone have a Nintendo 3DS XL on their Christmas list this year? There's a pretty good deal on one at BestBuy.com right now. You can get the Nintendo 3DS XL for $179.99 shipped, a savings of $20. This product gets a rating of 4.5 out of 5 stars.
Product Features
Feel the thrill of playing on a 90% larger screen than the Nintendo 3DS
Take handheld gaming to a whole new level with 3D visuals that can be viewed by the naked eye
Two screens give you the same versatile gameplay you've loved in other Nintendo DS handhelds
Top screen displays 3D visuals that feel like you're peering through a window into a virtual world with true depth
Use the stylus to navigate on the bottom touch screen
Adjust the 3D effect from its highest level to a scaled-back level or turn it completely off with the 3D Depth Slider
Built-in camera offers personalized fun with pictures and more
StreetPass and SpotPass communication allow you to connect to friends, other players or wireless hotspots from your 3DS XL
Includes 4GB Secure Digital card for use in the eShop
3DS XL is able to play all Nintendo DS games but DS games will not appear in 3D
Click Here to Get This Deal
Thanks Savings Lifestyle!