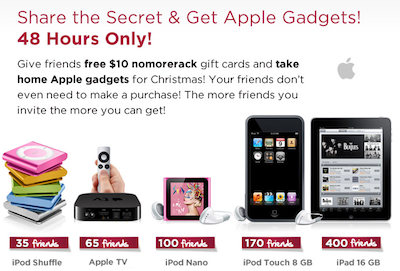 Remember this awesome promo? It's back, but this time you have 30 days to refer your friends! Yay!
Wow! NoMoreRack is giving away FREE Apple products for referrals! Your referrals don't even have to purchase anything–they just need to sign up for emails for you to get FREE stuff like an iPod, iTouch, or iPad!
They'll also get a FREE $10 credit for signing up!
Here's how:
Click on 'My Profile' at the top, select 'Redeem Gift Card', and enter code P1070 to get your $10 credit.
Click 'My Profile', then 'Invite Friends' to get your unique link. Share this link with your friends via email, Facebook, etc. Give them the P1070 code as well to get the $10 credit.
Watch the 'Invite Friends' page to see how many invites you have.
Once you get your referrals, email

[email protected]

to request your prize.
Prizes Available:
15 referrals: Stilla Lipstick
125 referrals: Apple TV
200 referrals: iPod Nano
650 referrals: iPad
900 referrals: MacBook Air
You can substitute an item for the equivalent of another in quantity.
Only friends referred between January 7th, 2011, 8am EST and February 7th, 2011, 8am EST will count towards this promotion. You'll need to claim your prize by February 10th, 2011.