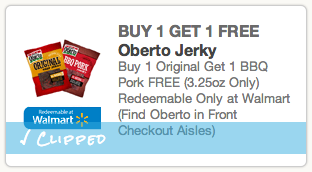 This coupon is back!
It's been quite a while since I've seen a coupons like this! Head over and print a B1G1 FREE Oberto Jerky coupon while it lasts. If the coupon isn't showing up for you, enter zip code 45342 and refresh the page. This one will likely reach the print limit quickly, so I'd print soon if you're interested in this coupon.
Walmart carries these bags of jerky for around $3.92, so you'll pay just $1.96 per bag after the coupon! That's a great price; you'll hardly ever see jerky coupons like this!
Oberko Jerky – $3.92
B1G1 FREE Oberto Jerky coupon (zip 45342)
Final Price: $1.96 each wyb 2
Check out the other Walmart deals you can grab while you're there.