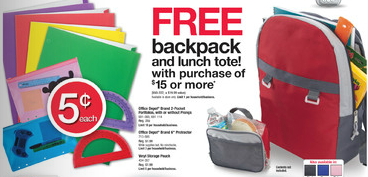 Here are the Office Depot back to school deals for the week of 7/31/11! Looking for more back to school deals? Check out my back to school category.
Best Deals
FREE Backpack and Lunch Tote with $15 purchase (limit 1 per household)
5¢ Office Depot 2 Pocket Portfolios (limit 10)
5¢ Office Depot Protractors (limit 3)
5¢ Vinyl Storage Pouches (limit 3)
Other Deals
Office Depot Eraser Caps, $0.69
Office Depot Filler Paper (150 count), $0.99
Office Depot Wood Pencils (12 pack), $0.99
Office Depot Space Saver Pencil Case, $0.99
Scholastic Crayons (24 pack), $0.69
Papermate Vibz Mechanical Pencils (5 pack), $1
Schoolworks Kids Stainless Steel Pointed Scissors (5″, 2 pack), $0.99
Oxford Index Cards (3×5″, 100 pack), $1.49
Kleenex On the Go Facial Tissue, $0.99
Foray Erasable Highlighter, $1.59
Wilson Jones Poly Binder with Pockets (1-1/2″), $1.59
TI-84 Plus Silver Edition Graphing Calculator, $109.99
$1 Deals
Purell Hand Sanitizer
Elmer's Glue-All
Office Depot Stainless Steel Ruler
Office Depot Marble Composition Book
Notebook 3 Hole Punch
Plastic Storage Bins
Metal Storage Bin
$2 Deals
Office Depot Scissors (8″)
Office Depot Big Tab Erasable Divider
Paper Pro 1 Hole Punch
Post-It Super Sticky Name Badge Labels (40 pack)
Really Useful Storage Boxes (1.6 liter)
Papermate Gel Pens (5 pack)
Liquid Paper Correction Tape (2 pack)
Prang Watercolor Set and Refill Pan
Softsoap Aquarium Design Hand Soap
$3 Deals
Office Depot Wood Pencils (72 pack)
Office Depot Clipboard (9×12″)
Milk Crates
Wilson Jones Lite-Touch View Binders (1″)
Sharpie Retractable Permanent Markers (3 pack)
Mead Five Star Reinforced Filler Paper
Post-It Durable Tabs (2″)
Scotch Magic Tape in Dispensers (2 pack)
Kleenex 2 Ply Facial Tissue (2 pack)
$4 Deals
Office Depot 3 Hole Punch (10 sheets)
Purell Hand Sanitizer Pump
Paper Pro Evo Compact Stapler
Foray Dry Erase Markers (12 pack)
Sharpie Gel Highlighters (4 pack)
DayMinder Pocket Planner (4×6″)
Satin Pencil Pouch (3 piece)
Really Useful Organizers and Magazine Files
Thanks, Stockpiling Moms!