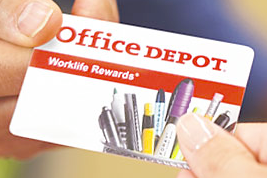 Here are the items that will be FREE after Worklife Rewards at Office Depot starting Sunday, 11/14 through 11/20! You must be a Worklife Rewards member to get these freebies.
**Worklife Rewards is FREE to join. The rewards cards are issued quarterly. These can be used in-store, online or over the phone.
**The links below won't reflect the sale prices until 11/14.
Storage
Legal Pads
Office Essentials
Tape and Adhesives
3M Tape, Portable, Pop-Up, 3/4X2 (764870)
Holiday Stationery & Labels
Shipping Supplies
Batteries
Miscellaneous
Rotating 7 Compartment Desk Organizer
Thanks, Mojo Savings!