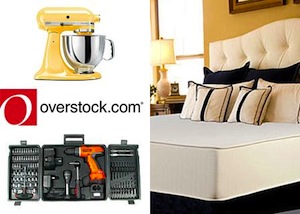 Overstock.com already has great prices, but this Tippr.com deal will make them even better! Today on Tippr.com, get $20 to spend on Overstock.com for $10.
Limit 1 per person. Promotion expires on January 19, 2013. May only be used to purchase goods or services under the "Shopping Tab". May not be used to purchase gift cards, cellular telephone plans, or for international orders.
Offer excludes orders comprising products from Books, Music, Movies, Games, and Electronics categories, as well as items within the Cars, Travel, Insurance, and Gold Redemption categories. This promotion cannot be combined with any other offer or coupon.