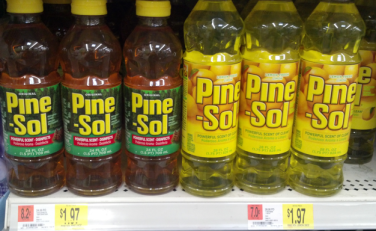 Here's a great deal on Pine-Sol! Head over to the Pine-Sol Facebook page and sign up to become a Deep Clean Diva Insider, and you'll be able to print a $1/1 Pine-Sol coupon.
Walmart carries Pine-Sol for just $1.97, so only $0.97 after the coupon. Plus, check your Ibotta app and see if you have an offer for $0.75/1 Pine-Sol. If you do, you'll get it for just $0.22!
Pine-Sol, 24 – 28 oz – $1.97
$1/1 Pine-Sol coupon
$0.75/1 Pine-Sol Cleaner (Ibotta Deposit)
Final Price: $0.22
Check out the rest of the Walmart deals available right now.
Thanks for the deal and photo, Happy Money Saver!