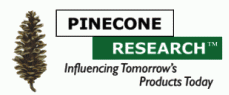 Pinecone Research is once again accepting new applicants, but this time they're not looking for just one certain demographic, so many of you may have a chance to become members! To get started, answer a questionaire to see if you meet any of the current recruitment needs. If so, you will be redirected to the sign up form page.
Pinecone Research is one of the best survey companies out there…you'll get paid $3 for every survey you complete! That's a lot higher than most companies…and you'll also have the option of getting paid via PayPal or a check!
Let us know if you get accepted!
Thanks, Hip2Save!