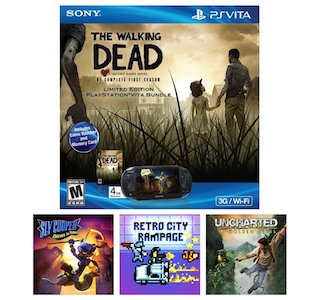 Here's another great Amazon deal! Their deal of the day is this PlayStation Vita Walking Dead Bundle. It's priced at just $174.99 today! This price beats the Best Buy Black Friday price too.
Shipping is FREE on this item. It has great reviews, with an average rating of 4.6 out of 5 stars.
This deal is valid today, November 29th only, so make sure to buy one now!
Product Features
Includes: PS Vita, game voucher for download of PS Vita Walking Dead game, 4 GB memory card, charger and one digital code for download of Uncharted Golden Abyss, Retro City Rampage, and Sly Cooper: Thieves in Time.
With PS Vita, gamers will be able to seamlessly play PS4 games on the beautiful 5-inch display over Wi-Fi in a local environment.
The Walking Dead: The Complete First Season: All five award-winning episodes plus special episode 400 Days.
Sly Cooper: Thieves in Time: Brand new Sly Cooper action adventure featuring Sly and his gang.
Retro City Rampage lets you play as the player. Take the wheel with five-finger discounts on over 30 vehicles and wield over 20 weapons.
Uncharted Golden Abyss: Uncover the dark secret behind the 400-year-old massacre of a Spanish expedition as Nathan Drake races into Central America in search of a legendary lost city.
Buy the PlayStation Vita Walking Dead Bundle