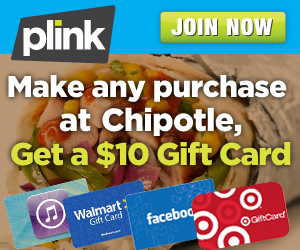 This is the best Plink offer I've seen yet! If you're new to Plink, you can get a FREE $10 gift card of your choice when you make any purchase at Chipotle by August 18th! They have gift cards for Amazon.com, iTunes, Target, Walmart, Kohls, Starbucks and more.
Here's all you have to do in order to earn your FREE gift card:
Sign up with Plink and register a credit or debit card.
Make any purchase at Chipotle by 8/18/13 11:59 EST.
Within 7 business days, receive 1,000 bonus Plink Points, which you can redeem for a $10 gift card!
You'll be able to have an awesome lunch at Chipotle and score yourself a $10 gift card! Sweet!
Sign Up for Plink