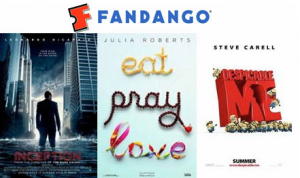 Plum District is currently offering a $12 Fandango ticket for only $6! Go here and get this deal before it's gone! If you don't see this deal on the main page, choose 'Everywhere' from the 'Other Districts' tab.
Offer Details
If you have earned any Plum Dollars, they may not be used to purchase this Plum Steal.
You cannot purchase this Plum Steal if you purchased the similar offer last week.
Limit 1 per person.
Your $6 voucher is for one movie ticket with a value up to $12
Your promo code expires on 10/28/10.
Must be redeemed online at fandango.com or through the Fandango iPhone app.
Your promo code cannot be redeemed directly at any of Fandango's partner theaters, via Fandango's telephone services, or through any other website operated by third-party merchants.
You are responsible for paying any balance due by credit or debit card if the ticket price (with Fandango's convenience fee included) exceeds the maximum promo code value.
---
Plum District is also offering a $30 voucher to Green & Chic Eco-Friendly Bath and Body Boutique for only $15! To get this deal, choose Miami from the 'Other Districts' tab.
Offer Details
Limit 1 per person.
You may purchase multiples to give as gifts.
Voucher may not be used toward shipping costs. Green & Chic offers $4.95 flat rate shipping.
Not valid with other offers.
Voucher amount must be redeemed in one transaction.
Expires 11/21/2010.
Thanks, Hip2Save!