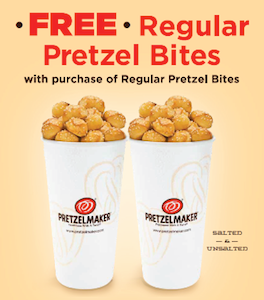 Update: Apparently Pretzelmaker has no intention of honoring this offer. I was told it doesn't start until next week. I left a comment on the Pretzelmaker Facebook page and will let you know what I hear back.
Have a Pretzelmaker nearby? You'll want to head over there today to get in on a yummy offer. Today, February 5th only, Pretzelmaker is offering buy one get one FREE pretzel bites!
No coupon is necessary to redeem this offer. However, it is only valid at participating Pretzelmaker locations. You may want to have the post handy on your phone, just in case.
See more restaurant coupons.