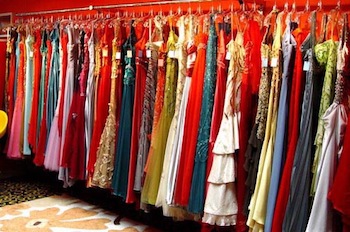 The following is a guest post from Carol:
It's only February and the prom dress talk has started in my house! So far I've only been through prom with my son, and that wasn't really too bad. However, based on former homecomings and dances, I can see that my daughter's prom is going to be a much bigger deal. Imagine that, girls being more complicated.
As a single mom, my goals are simple – first and foremost to not let her drive me crazy but also to stick to a frugal budget and that required finding prom dresses under $200. By following some of the tips below, you can find the perfect dress and also save a few bucks in the process.
Prom Dress Shopping: Where to Look
Ideally, a friend or family member having a dress is always nice, but not realistic in some cases. But it doesn't hurt to ask around.
CraigsList is a great source that usually has many people trying to sell old prom dresses from the year prior that their daughter won't be wearing again. Keep an on your local Craigslist site.
Ebay is another great source for finding beautiful dresses and gowns at affordable prices. There are even many merchants that sell on Ebay, so chances are good that you can get a brand new dress for a fraction of the cost that you would pay in a store. When you search, include "seller stores" to your query. And, it goes without saying to make sure they have good feedback from past customers.
Sign up for newsletters from your favorite shops so you are the first to know about clearance sales and special discounts. Hitting a local shop at just the right time can produce great results, but it's all in the timing. In past years, Kohl's and JCPenney have provided beautiful dresses. Shopping in advance and not waiting to the last minute is most important.
Depending on where you live, some schools and/or churches participate in prom-dress swaps. If all else fails, you can try local thrift shops, but depending on your teenager, that might be a problem at their picky age.
Shopping Apps
Lastly, shopping apps can be your new best friend if you aren't already using them for other things including groceries and more. The right smartphone app can help you locate the best deals right on your phone before you even start shopping. Here is a list of 8 of the best iPhone shopping appsRedLaser, and it is free. There are tons more if you spend some time on iTunes or the Android store.
Carol Mueller loves anything and everything fashion. When she's not blogging about the topic on Red Carpet Victim, she can be found reading the latest celebrity gossip or dishing on America's Next Top Model.