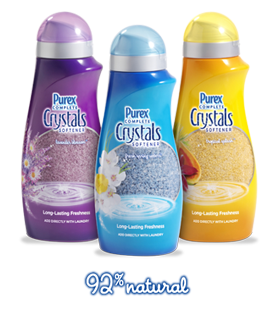 I had the chance to try the new Purex Crystals, and my family and I absolutely love this product! Purex Complete Crystals Softener is a purer way to get laundry that smells clean and fresh for weeks. The crystals are 92% natural, and instead of coating fabrics with oily residue, they infuse fibers with long-lasting fragrance. Also, since you add it directly with your laundry, this means no more waiting for the rinse cycle, and no more stains from spilling liquid fabric softener!
Purex Complete Crystals Softeners are safe for all laundry and won't harm, wear down or discolor your fabrics like other softeners. The crystals are safe for all fabrics, including baby clothes, athletic wear, towels, and whites. Crystals will:
Preserve the flame retardant benefits of your children's clothes
Retain your athletic wear's wicking ability which draws sweat away from your body
Maintain your towels' built-in ability to absorb water
Keep your white clothing from yellowing and graying vs. using traditional softeners
To learn more about the drawbacks of oil based softeners and the advantages of Purex Crystals, be sure to head over to their website and watch their video!
Even better, you can also download a $1 coupon from Facebook!