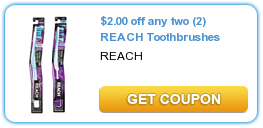 Coupons.com has a couple new dental care coupons available this morning:
Hold on to the Reach Toothbrush coupon for this upcoming deal at CVS. Starting 3/11, you can get toothbrushes for just $0.69 each!
Reach Toothbrushes, $3.69
$2 ECB WYB (1) ~ Limit 2
$2/2 Reach Toothbrushes
Pay $5.38
Get back a $4 ECB
Final cost: $0.69 each
Or you can use the Listerine coupon to get mouthwash for $0.69 as well!
Listerine Advanced or Total Care (500 mL), $3.69
$1/1 Listerine Mouthwash
Pay $2.69
Get back a $2 ECB
Final cost: $0.69 each