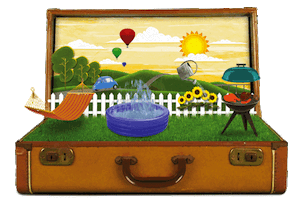 The Staycation suitcase in Recyclebank's Green Your Vacation is now open! You can earn 50 more points in this suitcase. Just follow these steps.
Login or register for a Recyclebank account
Head over to the Green Your Vacation page and click on the Staycation tab.
Click on the following items to earn points:

Hammock (10 points)
Car (5 points)
Watering can (10 points)
Grill (10 points)
Pool (10 points)
Food inside the grill (5 points)
Looking to earn more Recyclebank points? Check out my Recyclebank section!
Thanks, Moms Need To Know!