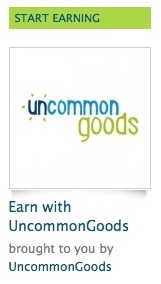 Currently on Recyclebank, you can earn 30 additional points just for signing up for FREE newsletters! Simply sign into your account, click on the 'Earn Points' tab, then sign up for the following newsletters:
Uncommon Goods Newsletter (5 points)
Become a thredUP member (20 points)
Earth911 Newsletter (5 points)
Recyclebank points can be redeemed for high value coupons and many other rewards! If you're not already a member, sign up today and start earning!
Thanks, Money Saving Madness!