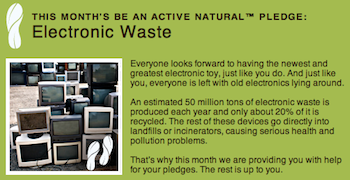 Head over to the Aveeno Facebook page and take all three Active Natural pledges to earn 50 Recyclebank points! If you did this previously, it should have reset for the month of November. You'll have to publish to your wall to get the points.
Pledges to Take:
Educate
Educate others on the health hazards of e-waste.
Commit
Recycle an old electronic item you own.
Live
Hold on to your cellphone for an extra six months.