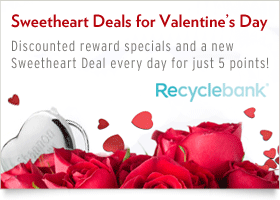 Take advantage of deeply discounted reward specials at Recyclebank, perfect for the sweetheart in your life.
Different handpicked deals will be 25 points throughout the week. Plus, Recyclebank will feature a new Sweetheart Deal each day for just 5 points!
Monday's 5 point deal is $10 off at FTD. Who wouldn't love that?