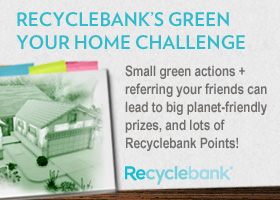 Celebrate Earth month this April with Recyclebank's Green Your Home Challenge, a contest where you earn Recyclebank Points for learning how to green your home, room-by-room.
Plus, get more points and increase your game score by getting your friends to play, too, for a chance to win more than 100 prizes, including a grand prize $18,000 green kitchen makeover and full suite of energy star-qualified LG kitchen appliances.
Visit greenyourhome.recyclebank.com for more ways to increase your contest score and a chance to win. The kitchen will be unlocked today, with new points opportunities and educational tips from Recyclebank's Partners In Purpose and other brands like Ziploc®, Kashi®, and P&G's Future Friendly.
Get started now with this new 25-point Learn & Earn from Recyclebank's Partners In Purpose. This group of select brands has teamed up with Recyclebank to reward you for shopping smarter by keeping the environment in mind and saving money. Start earning points below!
To earn points, click on the 'Continue Reading' button in the gray box below.