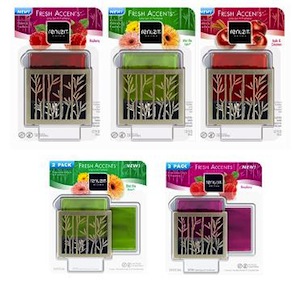 Renuzit just released a new mail in rebate! You can try Renuzit Fresh Accents for FREE! Just purchase any Renuzit Fresh Accents air freshener in the After the Rain, Raspberry, or Apple and Cinnamon scents by 5/14/12.
Then, complete the mail in rebate form, and you'll receive up to $2.29 for the unit holder and one refill, or up to $2.99 for a unit holder and two refills. Your house should be smelling great after this freebie! 🙂
Hurry and fill out the rebate form soon. Companies like to pull the forms before the rebate actually expires.
Thanks Kupon Chick!