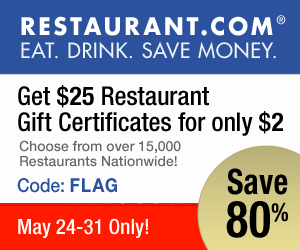 Restaurant.com has a new 80% off promotional code: FLAG!
Take 80% off of $25 Gift Certificates and pay ONLY $2!
Just use promo code FLAG through May 31st!
For a total of just $2, you'll end up getting a $25 gift certificate! They don't expire for a year after purchasing, so you'll have lots of time to make use of them.
You can also use this on the Dinner of the Month Club! It's a 12 month package that comes with 12 $25 gift certificates and one FREE $50 gift certificate! The total for this package would be $120, but after you use promo code FLAG, your total will drop down to just $24!
Thanks, Hip2Save!