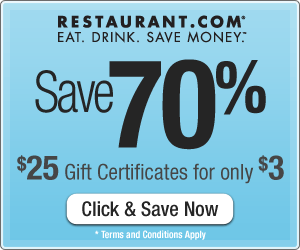 If you have any last minute gifts you need, Restaurant.com has just released real gift cards. You order it online and they will mail it out for FREE to you or to the person you are ordering for.
These are gift cards that they can then use to come on Restaurant.com and select certificates to use at any store they would like in their area.
If you use the code SNOW, you will get 70% off these gift cards. You can get:
$25 gift card for $4.50
$50 gift card for $7.50
$100 gift card for $12
They don't have to use it all at the same time.
If you are shopping for your own dinner out, then use SNOW to get:
$10 gift certificates for $1.20
$25 gift certificates for $3
Think of these as coupons off your meal and make sure you read any requirements for use.
If you go through Ebates, you'll get get 15% cash back.
Thanks, Southern Savers!