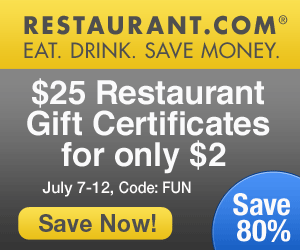 Restaurant.com has a new 80% off promotional code!
Take 80% off $25 gift certificates and pay only $2!
Just use promo code FUN at checkout through 7/12.
For an even better deal, you can purchase the Dinner of the Month Club, which is a 12 month package that comes with 12 $25 gift certificates and one FREE $50 gift certificate. The price for this package is normally $120, but after you use promo code FUN, it will be only $24!