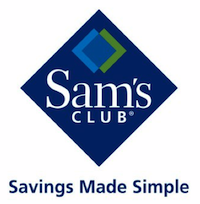 Have you been debating whether to join a warehouse club like Sam's Club? Although warehouse clubs don't always offer the best prices on items like cereal, canned goods, and snack foods, they typically offer a great selection of fresh produce and meats! Through August 1st, Sam's Club is offering all new Sam's Club members a $20 gift card with their membership! Membership fees start at $40 a year. Check out the Sam's Club Facebook page for more information.
If you are a college student, you'll want to check out the Sam's Club Collegiate Membership! Currently, you can get a $15 Sam's Club gift card when you sign up for a new membership or renew your existing membership. You will be required to present a valid student ID and university email address at the time of sign up. You'll get an additional $10 Sam's Club gift card for each referred student you bring to Sam's Club who also joins as a Collegiate member. In order for current member to receive a $10 Sam's Club Gift Card, the new Collegiate member and the current member must be present at the time of sign-up. And if a collegiate member buys textbooks through Sam's Club service, they can get up to a $30 gift card!
Wanna check out Sam's Club and see if it's for you? Print out the one-day shopping pass and have a look around. You will have to pay a 10% service charge on your purchase if you are not a Sam's Club member.
Thanks, Hip2Save!