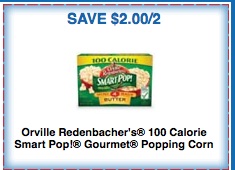 The manufacturer's coupons available on the Save-a-Lot website have reset, so you should be able to print them again!
The coupons listed below are manufacturer's coupons and can be used at stores other than Save-a-Lot. I was able to print the $2 off 2 Orville Redenbacher's coupon more than twice! 🙂
Manufacturer's Coupons Available
$0.50 off one Fleischmann's Olive Oil
$1.25 off 2 Healthy Choice Cafe Steamers or Asian Inspired Cafe Steamers
$1.25 off 2 Healthy Choice Complete Meals
$0.50 off 3 Snack Pack Sugar Free Or Fat Free Pudding
$0.50 of one Swiss Miss Sugar Free Pudding
$1.50 off any 3 Healthy Choice Fresh Mixers
$1.00 off 3 Healthy Choice Microwavable Bowls
$1 off 4 Healthy Choice Canned Soups
$2 off 2 Packages of Orville Redenbacher's 100 Calorie Smart Pop Gourmet Popping Corn
**Keep in mind that once you've reached your print limit a coupon will print out telling you that "You have reached your household limit".
Thanks, Hip2Save!