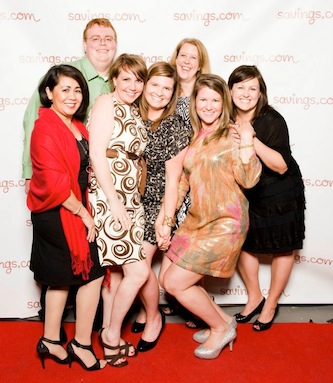 I'm sure last weekend, many of you noticed that I wasn't posting as much as usual. That's because I was at the awesome Save Up '12 event in Los Angeles, California! 🙂
Savings.com flew me out on Thursday to attend this four day event to receive training for the brand new Savings Nation program! I learned so much and got so many valuable tips that I thought my head was going to explode! But that's a good thing.
The sessions were held at the Savings.com offices in Los Angeles, which I had never seen before last weekend. Their offices are really cool, and they even have dogs in the office!
This conference wasn't all about business though. We had quite a bit of fun too! On Thursday, we went to El Cholo for an excellent Mexican dinner, and on Friday, we headed over to the Sonoma Wine Garden for dinner and cocktails. On our way there, we literally ran into Hal from Swagbucks!
On Saturday night after dinner at the Savings.com offices, I attended the red carpet event. Above, you'll see a picture of myself and six more of your favorite money-saving bloggers!
There was a DJ, and I hit the dance floor for a few minutes. Well, actually, Andrea dragged me out. 🙂 I had the best ice cream sandwich of my life from Coolhaus too!
Overall, Save Up '12 was an absolute blast of a conference, while also being very informative and educational. Thanks so much to everyone at Savings.com for all their hard work to make this event awesomesauce! And thanks to John Cizmas for the great photos!
Also, thanks to the awesome Save Up '12 sponsors:
Here are a few photos for you to take a look at too 🙂