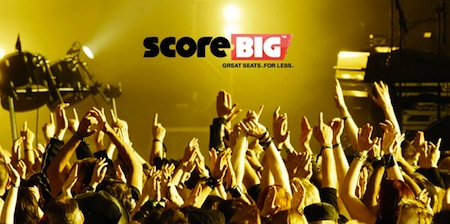 How many of you have ever purchased event tickets from TicketMaster? Don't you just hate those senseless fees and surcharges they tack on at the end? Say goodbye to those charges, and say hello to ScoreBig.
ScoreBig is a site that sells sport, concert, and theater tickets. However, every single ticket they sell is 10-60% off! They'll never add those fees like TicketMaster does, and every ticket is 100% guaranteed!
Here's where it gets even better. When you're selecting tickets, you can tell them how much you want to pay for the tickets, and they'll instantly let you know if your offer is accepted! You can basically make your own little sale on event tickets this way. 🙂
And if that wasn't great enough, we've teamed up with ScoreBig to offer Frugal Finders readers an extra $20 off your first purchase! All you have to do is sign up for ScoreBig through the link above. The $20 off will automatically appear during the checkout process!
I'm really excited about this new site. We go to a few concerts every year, and I'm looking forward to seeing how much we can save on the tickets. 🙂