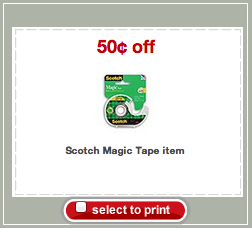 There's a new $0.50/1 Scotch Magic Tape Target coupon available to print! Look under the Back to School category to find this quickly. This doesn't expire until 9/1/12, so we'll have plenty of time to use it.
I would hurry and get this printed before it runs out of prints. This tape went on sale for $0.50 last summer, so if it goes on sale again this summer, it would be FREE after this coupon.
So print it now and hold onto it until we see a deal like that roll around again! 🙂
See more back to school deals.
Thanks Totally Target!